Summer 2017
I hope you're all enjoying the summer so far…
Thanks so much to all of you who responded to my request regarding case studies for my wellbeing coaching training – it was great that so many of you responded! I hope to be qualified in the Autumn and will be offering a special reduced rate for those who are interested in having some sessions with me, so watch this space…
In this newsletter, I've included an interesting article on the possible psychological reasons for certain cravings.
Also, something I hear a lot about from many of you is how you feel GP's and consultants sometimes lack empathy, so the following may help explain why this is an issue.

COMPASSION – IS IT MISSING IN MEDICINE?
The provision of compassionate care in all clinical scenarios is well understood to add various benefits including patient satisfaction, improvement in compliance, less complaints, improved practitioner wellbeing and professional satisfaction.
Studies have shown that the degree of compassion expressed by medical students progressively declines over their course of training and markedly so in their final clinical years. What is it about the medical training that prepares professionals focused on the resolution of illness that also denies them the skills necessary to engage with their patients utilising appropriate compassion and human feelings?
Once in practice, it's no better, the loss continues, General Practitioners, the front line of the NHS and frequently having to deal with the holistic care of the patient, unsurprisingly are found to have the highest levels of compassion among all specialities; however, they are also found to experience a very high rate of burn-out, with female doctors found to be prone to 'compassion fatigue' more so than male doctors.
Yet the population has never needed compassion more than it does now, and physicians also need the capacity to spend time, engage and inspire their patients; but the system is not aligned with these aims. The underlying cause is in part a process that for over 60 years has been designed to remove 'ownership' from personal health issues. That in effect personal responsibility can be transferred to the medical or health care providers and as such all activities that require a mix of change of behaviour and intervention, rather than an acute care intervention are mismatched with society and their needs.
Yet over 70% of us will die due to chronic, non infectious diseases, often at a substantial cost to family members and local resources. Whilst not all events that need long term care are attributable to behaviour, pretty much all have a connected element and yet these components are rarely addressed, rarely prioritised and rarely explained. These educational elements take time, take planning and take skills that are not available to the majority of physicians operating in the NHS. This mismatch is creating dissatisfaction across the entire spectrum of the population and health care, some feel they are being blamed, some that they are being denied and many just do not understand.
The role of allied health care providers such as Nutrtitional Therapists is currently to operate on the periphery of the NHS and it's here that they are mostly misunderstood or simply unknown to the majority of clinicians. Yet there are changes occurring across this divide, movements are emerging and engaging, it takes time but the sheer economic cost of producing unhappy compassionate compressed clinicians and losing them to early retirement or change in direction will leave a gap that needs filling.
As reported by Nutri-link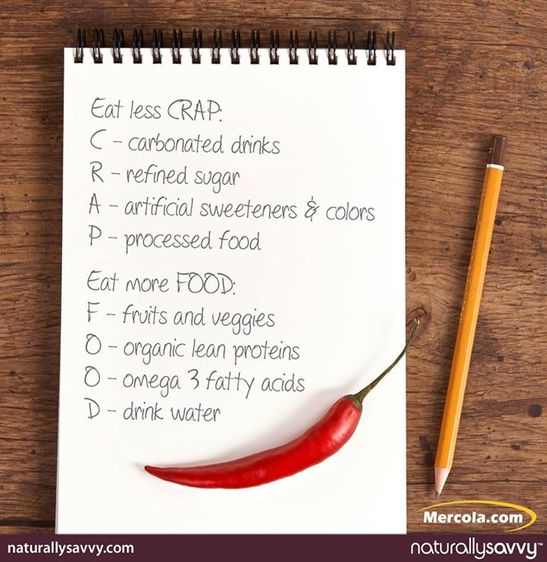 63% of the public – and 82% of GPs – don't trust drug trial claims
A McDonalds meal is over twice the cost of a homemade meal! 
An apple a day could cut your risk of stroke by 45%

9 FOOD CRAVINGS AND WHAT THEY SAY ABOUT YOUR EMOTIONS
The following article by Dr Deena Minich on the Mind Body Green website may be of interest to some of you…
Rather than expressing our emotions, we sometimes stuff them down with food which our bodies translate as comfort and fulfillment.
Scientific research shows that when people have difficulty identifying the emotion they're experiencing and ways to deal with it, they're more prone to binge eating. The more readily we can express our emotions, the healthier our bodies, hearts and minds will be.
Cravings are a window to your inner landscape. By deciphering the real meaning of your cravings, you can get insight into what's truly gnawing at you from within. These are some patterns I've noticed based on my 20 years of working as a health expert.
1. Baked sweets (pastries, cakes, sweets, pies, etc.)
Sweet cravings are probably the most frequent craving people report to me. These people are often working too long and hard, moving from one to-do list item to another and feeling exhausted.
The real reason for this craving is they aren't experiencing enough joy — it's evaporated into their daily grind.
Alternative: Find an activity you enjoy and can indulge in for 30 minutes per day. Try taking a walk in the park, reading a good book, or treating yourself to a foot massage. Once you begin to let yourself have joy in your life, you won't be on the hunt for those sweet foods to do the trick.
2. Spicy
Those who like spicy food, even to the point at which their eyes start tearing, are most likely looking for intensity and action in their lives.
They love to be on the go — going to movies, traveling to distant countries, exploring new restaurants. When they haven't made the time to do these things, spicy food becomes the option to "get them going".
Alternative: What are small steps that you can change to give you the shift you need to feel "alive"? Trying stepping out there and taking a dance class that you haven't tried before, like Zumba, or even venturing out to the latest blockbuster action movie!
3. Salty
When we eat lots of salt, we move the water in our bodies. Salt is like a magnet for movement and flow, which is important for helping people to "go with the flow" of life and relax.
Alternative: Find ways that you can sink into the moments of life and reflect. Try deep breathing, running, or meditating. You may even want to try watercolor painting — using the water to flow with your creativity!
4. Caffeine
We want to be in the midst of it all, absorbing all the information we can, and remembering it so that we can be at the "forefront". At the core of all this mental juggling, is mental exhaustion.
Caffeine gives the false impression of keeping it all together and being mentally sharp, but really, it exhausts us further — especially in excessive amounts.
Alternative: Rather than that next cup of coffee or soda, give your mind a break and get some extra rest. Try taking a nap or going to bed early, then you'll really be able to concentrate.
5. Crunchy/crispy foods
Crunch, crunch. With every crunch, it's a cry of "hey, look at me!"
Perhaps we're angry and want to "snap" back at someone, but feel restrained. We might also want a "pat" on the back for a job well done. Crunchy foods give us the artificial center stage.
Alternative: See if you can understand what you really want to say. Write in a journal and when you're ready, try to express what you've been bottling up in a manner that's a win-win for all.
6. Chocolate
Ah yes…chocolate. Chocolate enables us to be blanketed with a feel-good, in-love feeling like no other.
It actually contains compounds that change our brain activity, so it's no surprise that we have these feelings.
Alternative: Take a deep breath and think about love in your life. How can you make changes to give and receive the love you need? Maybe you need to get or give a hug the next time a craving hits.
7. Soft, filling starches
Squishy, soft, and comforting. Starchy foods like bread, pasta, and even rice sound great when we need some hand-holding or hugs. We're seeking comfort and sustenance in hard times.
Alternative: Instead of bread, talk to a friend or join a support group. Put your momentum in the direction of making your life memorable with opportunities that are creative and health-promoting.
8. Ice cream
Our connection with ice cream often takes us back to childhood and memories of the summer. It imparts a feeling of freedom and being carefree. So when we're feeling hurt, we start lapping up the ice cream.
Alternative: List ways you can soothe and feel free in your daily life — like riding a bike or taking a bath and reflecting on simple ways to heal those deep hurts.
9. Cheese
For those with any "mother" issues in your life, whether over-mothering or needing mothering, cheese has probably been calling out to you.
When we need to be nourished, both physically and emotionally, it makes sense that we crave cheese. Cheese is made from milk, the essence of maternal nourishment. Cheese provides a grounding, earthy protein to keep us anchored into the human body.
Alternative: Do you need some nurturing and connection? Find a community that's meaningful for you. Create a space within a personal tribe where you feel safe to express yourself and share your inner thoughts.

RECOMMENDED PRODUCT
Optibac Probiotics are a well researched brand that vary the strains of bacteria for different requirements, such as Travelling Abroad (below), for those on antibiotics, for immune support and also babies and children.

Please visit my natural and organic online beauty store
 RECIPE
SOCCA PIZZA
This is a recipe from the Hairy Bikers but it's pretty healthy, especially if you add a few toasted nuts or feta or goats cheese plus a big green salad.
I think it's a really great quick and easy summer recipe.
Serves 4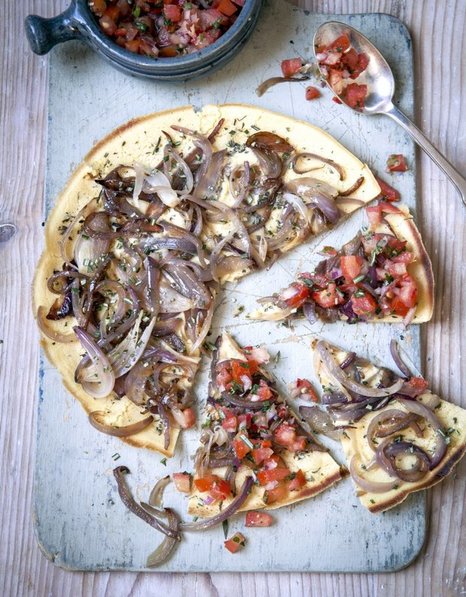 Flatbreads
2 tbsp olive oil
2 red onions, sliced into thin wedges
150g chickpea (gram) flour
1 tsp finely chopped rosemary
sea salt and black pepper
Salsa
4 tomatoes, cored and diced
½ small red onion, finely chopped
1 small red chilli, finely chopped
zest of ½ lemon
1 tsp red wine vinegar
1 tsp olive oil
small bunch of basil, finely chopped
Heat a tablespoon of the oil in a frying pan and add the red onions. Fry them over a medium heat for at least 10 minutes until they have softened and started to caramelise. Set aside.

Put the chickpea flour in a bowl with a generous pinch of salt and whisk to remove any lumps. Gradually pour in 250ml of water and continue to whisk until you have a smooth batter with the consistency of thick double cream. Stir in the remaining olive oil and whisk to emulsify. Set the batter aside

To make the salsa, mix all the ingredients in a bowl and season well with salt and pepper.

You can make 2 large socca in a 25cm non-stick pan, or 4 in a smaller pan. If making 2 large socca, heat the pan and pour a few drops of oil into the pan and rub it over the base with kitchen paper. Pour half the batter into the pan and swirl to cover the base. Sprinkle over half the onions and half the rosemary, then cook over a medium heat for a few minutes until browned and crisping round the edges. Flip the socca over to cook the other side or put the pan under a medium grill to finish the cooking. Transfer it to a board or a large plate and repeat.

If you are cooking 4 socca, split the batter into 4 and proceed as above, using a quarter of the onions and rosemary each time. Cut the socca into wedges or serve whole with the salsa.

CANCELLATION POLICY
Just a reminder that 48 hours notice should be given for cancellations in order to avoid a charge
As many of you will know, Saturday morning appointments are in demand, so last minute cancellations for Saturdays are particularly frustrating for a self employed practitioner with a waiting list!
Thanks for your understanding
If you know someone who might find this newsletter interesting, please feel free to forward it to them.
 And if I haven't seen you for a while, please don't hesitate to get back in touch if you feel you could benefit from further help.
vanessa@wellbeingandnutrition.co.uk
Vanessa