SPRING 2017
Spring is here, the sun is shining and it's the perfect time to take a good look at your diet, change things up and move on to the lighter food that's coming into season.
It's also a great time to look at your overall wellbeing and have a think about your goals for the rest of the year and what you need to do to achieve them. It is, after all, the season of growth and new beginnings!

DO YOU HAVE THE SENSITIVITY GENE?
The Sensitivity Gene
(and its link to ME, Chronic Fatigue and Fibromylgia)
It has been discovered that a newly identified gene predisposes 15-20% of the population to fatigue related conditions, due to a heightened reaction to stress.
Elaine Wilkins from The Chrysalis Effect, a pioneering organisation helping people recover from ME, Chronic Fatigue and Fibromyalgia, believes that if practitioners recognise the existence of this gene, they will know how to intercept and prevent clients from tipping over into one of these long term chronic and debilitating conditions.
People with this sensitivity gene are 6 times more likely to develop Chronic Fatigue
The gene is responsible for regulating the neurotransmitter serotonin which directly influences our resilience to emotional trauma and distressing events and perhaps explains why some of us are more traumatised and less able to bounce back from negative events than the majority of people are.
In those with the sensitivity gene, a hair trigger response to stressors can develop and our body feels it is under constant treat. These stressors can be physical, emotional and environmental. Eventually the calming response to 'fight or flight' becomes desensitized and stops functioning properly.
People with the sensitivity gene are, as the name suggests, highly sensitive and will often employ behaviours to hide or suppress this trait, having been teased, bullied or hurt in the past. They can develop a tendency towards perfectionism and can be very driven and will often override the early signals they may be receiving from the body, such as overwhelming tiredness, migraines, insomnia and anxiety. They may start to self medicate with painkillers, alcohol, sugary foods and coffee to help them push on through their symptoms.
Eventually their adrenal glands may become exhausted and a tipping point will be reached. A virus may manifest, as adrenal exhaustion can result in lowered immunity. The virus is often mistaken for the cause of a chronic condition when in fact it is the final straw.
It is important that those who develop Adrenal Fatigue, Chronic Fatigue, ME or Fibromyalgia to understand that although it is vital to address these conditions on a physical level, it is also crucial to develop an understanding of their sensitivity and the emotional reasons behind their 'crash'. These may range from long buried loss and grief to bullying, relationship issues or being on the wrong career path.
The Chrysalis Effect are getting remarkable results in their holistic treatment of these fatigue related conditions. One of their tools is to use a Symptoms Impact Questionnaire to chart progress. The guidelines for use within the NHS set a marker of 14% as showing statistically significant improvement, whereas The Chrysalis Effect typically average 38% after 3 months and 78% or more after 6 months!
Most people instinctively know if they are highly sensitive and therefore likely to have the sensitivity gene and, if this is the case and assuming you're currently well, what can you do to prevent a tipping point? Some of the best strategies include a good diet low in sugar and stimulants, stress relieving activities such as yoga, mindfulness or reiki, getting enough sleep, recognising your emotions, listening to your body if it's telling you to slow down and accepting your natural sensitivity (which can be a good thing!)
I have recently completed some training with the Chrysalis Effect and now have a specialism in fatigue related conditions.
If you would like further guidance on what you can do or if you feel you are close to that tipping point, then get in touch with me  vanessa@wellbeingandnutrition.co.uk
As some of you know, I am currently training to be a wellbeing coach.
This will be a perfect adjunct to nutritional therapy as wellbeing coaching is holistic and addresses all aspects of health, both emotional and physical.
Wellbeing coaching can help people clarify their life purpose and goals, creating shifts and long term changes, as well as challenging unsupportive beliefs and behaviours that can sometimes have an effect on their health.
It's a very exciting innovative course and as part of my training I will need to practice on a few people!
This would involve six free sessions so if any of you are interested, drop me a line and I can tell you more…
vanessa@wellbeingandnutrition.co.uk

RECOMMENDED PRODUCT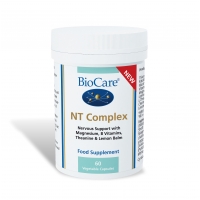 NT Complex is a high potency combination of L-theanine, lemon balm, chamomile, lavender, magnesium taurate and B-vitamins to support a balanced nervous system.
If you are suffering from anxiety and sleep issues, this may be a good choice of supplementary support.
 However, please contact me if you need clarity as to whether it might be suitable for you or if you are taking other supplements containing B vitamins.

Please visit my natural and organic online beauty store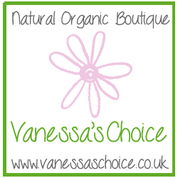 and you can like/follow on
 RECIPE
MEGA VEGGIE NACHOS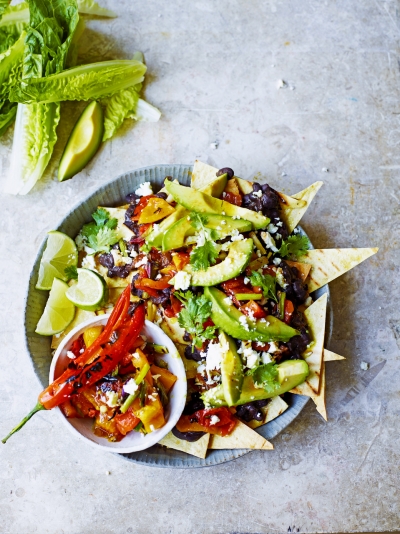 This is my version of a Jamie Oliver recipe. It's very quick and easy, looks fresh and vibrant and tastes delicious!
Serves 3-4
3 mixed-colour peppers
Half a fresh red chilli
4 ripe tomatoes, on the vine
bunch of spring onions
bunch of fresh coriander
2 limes
3 wheat free tortillas/wraps – I use Bfree Quinoa & Chia seed wraps
1/2 teaspoon cumin seeds
Chipotle Tabasco sauce
1 x 400g tin of black beans
1 ripe avocado
20 g feta cheese
Slice the peppers and bake in the oven with olive oil at 180ºC/350ºF/gas 5 for 15-20 mins.
In a large bowl, chop tomatoes and spring onion – squeeze over juice of one of the limes
Place a large frying pan over a high heat and toast the cumin seeds for a few seconds. Add the chilli, then the Tabasco sauce and beans and cook for a few minutes, stirring occasionally. Add to tomatoes and spring onions.
Cut the tortillas into wedges and arrange over two baking sheets. Bake in the oven for 5 minutes, or until golden.
Once done, add the peppers and mix. Add more lime juice, then add feta, avocado and coriander and arrange the wedges around the bowl.

If you're ever tempted to drink coke…